Babyletto Lemonade Playset
Who would ever think that this Babyletto kids table and chairs set (click here for more information) would be a popular play set among little cuties out there? If your daughter has started to realize how fun a tea party is, you wouldn't let her miss the chance to play it, would you? But it's not only for girls and their tea parties, even for young boys, there is neutral and boyish colors available to suit as-well (see below).
Kids love to play with toys absolutely anywhere and everywhere! I find my kids love to play on the floor, on the kitchen table, on the kitchen counter so on and so forth. They also love playing on our dining table. But with the range of funky kids tables and chair sets available, you can buy them their own miniature size table set for them to enjoy and feel comfortable in.
Also, playing with toys in the right space of their playroom or in their bedroom can be frustrating for little children. Sometimes the floor just doesn't help them play, as they need a table set with chairs that can assist them play, learn, eat and read!
 View All Colors (Flamingo, Marshmallow, Pineapple & More)
Babyletto Lemonade Playset: #1 For Sturdiness
When you are looking for a kids table and chair set, you want something sturdy right? What parent would want their child falling off the chair or the child's chair breaking underneath them because it's not strong enough to even handle a 2 year-old kid's weight? No one!
With Babyletto Lemonade Playset (get latest price here) this will not be an issue. This kids Babyletto Table and Chair set is made from steel. Yes, you have read it right. Steel – like the Man of Steel. Strong enough to hold a kid's weight and even the kid's old man and momma. So the answer on whether you can join your little ones, is, of course you can, you can sit on these chairs also.
Toxic Free Finish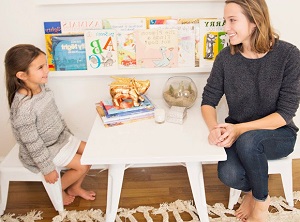 Well, who've said that I'm done, there is plenty more feature of this kids table and chair set than just meets the eye. This set that is featured here comes with a table and two backless stools.
Did I just say backless? Yes, I did. This kind of stool will help your little ones to improve their sitting posture at an early age and won't restrict their play by having to hop up and down to get around the chair. With just a quick swivel movement, they have 360 degree access to anything.
These stools have flared-legs that provide anti-tip safety. Moreover, they're stackable; making it easy to store (for mom and dad, of course). As I mentioned earlier, the entire Lemonade Playset is made of steel but the added benefit of all Babyletto products is that it comes with a toxic free guarantee – it is lead free phthalate free.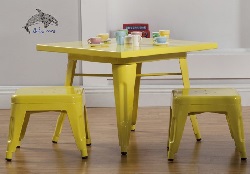 If you have a preschooler, this set of kid's furniture could actually serve his or her study table. Therefore, this is not only intended for girls but boys as well (see all colors available here). Your kid can draw, write and do other things using this kid's table and chair set.
There's even a room for one more. You could join your kid, who is gradually learning how to do school tasks, on his/her table. If your child decided to get messy, then it wont be much problem at all. Cleaning this Babyletto Lemonade Playset would only take you less than a minute with its easy-wipe finish.
 Babyletto Lemonade Playset: Get Latest Price Here
So with it's super easy to clean finish, let your kids explore their creativity. They might be hiding Van Gogh or Da Vinci somewhere within.
So stop wasting your money into buying an ordinary kid's and table sets (you can view more here), which can easily break if made from plastic. And hey, don't you just love the colors available? Well, I do; it's actually refreshing to the eyes.
Moreover, you can also bring this set outside if you're planning to extend your kids' playground out of the four corners of your house.
Babyletto Lemonade Playset, an extremely sturdy and high quality playset for such a reasonable price for the quality you get (view latest price here). You wouldn't want to deprive your kids of such a wonderful play set, right? This item is also eligible for free replacement parts when purchased online.
Buy your kids a gift that they would love to have and that you will enjoy sitting on also.