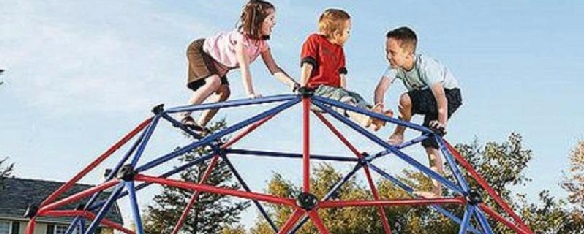 Lifetime Geometric Dome Climber Play Center
Lifetimee Dome Climber Play Center, welcome to a whole new world of play possibilities.
Toys are meant to be educational and positively contribute to the growth the development of your child. However, there are times as a parent you are at a loss on what to get your little ones for their special days. Do you get them a bicycle, video games, a doll house or may be a train set? A closer look at your shopping history rules out the possibility of acquiring any of these toys -you have them already crossed them off the list.
I found myself in such a situation and sweat out needles until I came across the perfect solution. One that combines both mental and physical child development encourages socialization, long lasting and can host a number of children at a go. Yes, I am talking about a kids outdoor play center, specifically, the Lifetime Geometric Dome Climber Play Center.
This is dome-shaped, 10-foot radius geometric climbing dome that is best suited for children ranging from 4-12 years of age.
Made of weather and rust-resistant powder-coated steel, outdoor playcenter endures time graciously and provides a fun, adventurous playtime for your little one. Not only for your little ones but it provides an opportunity for you to invite your children's friends over to play all together. Given that it can comfortably accommodate up to six children.Not only is it a big toy that fits snugly in your backyard, but it alsofeatures a sturdy secure-fastened assembly ensuring a safe play environment that develops strong muscles and improves your child motor skills and coordination.
The real rock climbing hand grips, made of high-density polyethylene, are primarily designed to fit snugly into the child's hand making the grip firm, secure and sure for unsurpassed safety.
At first glance this Lifetime Dome Climber looks simplistic and not quite appealing, to you as an adult anyway, and rightly so – we lack the imagination powers of a child.
To a child, this is a jungle gym, which, while all safety and durability measures are factored in, opens the door to a whole world of possibilities. I was uttermost surprised, and pleasantly so, to find out the variety of uses my five-year-old and his friends invented for climbing the dome. On some days it was a clubhouse, a tent, a space rocket, a jailhouse (LOL); I honestly couldn't keep up, the uses varied every single day.
A most important factor that emerges clearly after installing a play center in my backyard is improved socialization capacity. Joey, my five-year-old was a naturally shy boy who would keep to himself; however, a few weeks of having some friends over at the play center transformed him into a bubbly, outgoing child. He can now be seen gaily playing with his buddies, most of them newly found, as they challenge their mind and body on his play dome. My boy's communication and social skills have never been sharper. Thank you, Lifetime Dome.
Not only do they come with a one year's guarantee, but Lifetime Domes are also pretty easy to install. It took my hubby and me, less of two hours to have our five-year-old letting out Tarzan yells as he explored his new plaything. It does not require any advanced engineering knowledge or mechanical skills, only basic tools – a detailed installation guide makes installation a breeze. So there you have it, an outdoor play idea that you may as an adult turn your head away at, but something that has delighted thousands of kids and parents worldwide. A #1 best selling outdoor play centre for kids and parents alike.