Little Tikes 8-in-1 Adjustable Playground
It is a busy world we live in – long office hours, impossible deadlines and equally impossible traffic snarl up. All this leaves very little time for yourself or at the very least for your children – you hardly have enough time to take them to the park anymore. But this lifestyle changes does not need to impact negatively on the children's need to be well, children.
No Time to Take The Kids to the Park? Get Your Own Playground!
If you are as time pressed as I am at times, you find it virtually impossible to make a visit to the park for the kids weeks on end. If that sounds a little like your situation, it is imperative to acquire this beauty of an outdoor playground, the Little Tikes 8-in-1 Adjustable Playground (available to purchase here)
This marvelous contraption provides all the features found in the park to your children, right at the comfort of your home. Now this is the best part about the entire thing, you don't need anything else to keep your kids entertained outdoors.
 8 in 1 Playground: Get Best Price (US & Worldwide)
 8 in 1 Playground: Get Best Price (UK)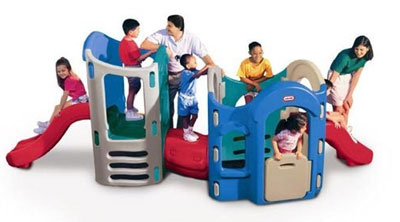 As a parent, I can comfortably get some work done on a Sunday afternoon, pausing intermittently to observe what sort of mischief my children were up to in their newly found plaything.
Outdoor Playground Features
Featuring an easy-opening door and crawl through tunnel, the playground is an outstanding home play structure and brilliant playtime idea for your children (and their friends when they come over) – an excellent babysitter that is for sure!
The outdoor playground boasts one extra-long slide for older children and one gentle slope slide that best suits younger children, which attests to the thoughtful consideration of the manufacturer. It takes out the annoying and ceaseless bickering out of playtime – kids of all ages are accommodated in one playground.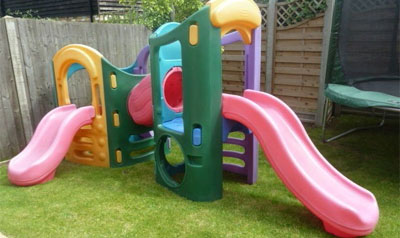 Made from durable plastic, the playground is weather resistant and available in a wide variety of colors and is bound to supercharge children's play activities to a new level.
Measuring over 10 feet from end to end, the playground features doors, ladders, slides, and portholes which promise endless possibilities of play situations. Additionally, it is adjustable in 8 different ways to present a different level of challenges and to accommodate children of different ages.
This versatile playground made of molded plastic offers a wide variety of crawling, climbing and sliding activities for children of all ages. Unlike the facilities found in the park, the playground can be refashioned for different activities as soon as any particular design wears off on the rambunctious children. From open topped towers to climb through tunnels to towers with swinging doors, the playground offers countless possibilities of play themes – from medieval times to the modern times.
Featuring a rock-solid but kids friendly construction this study outdoor playground meets all children safety standards and lasts long enough for the children to outgrow it. It comes in backyard natural colors that blend well with the backyard and vibrant enough to entice your children. This playground is especially designed to promote group and physical activity among children aged between two and eight years.
Despite the fancy configuration, these playgrounds are easy to set up without any special hard ware and are suitable for both indoor and outdoor use.
 8 in 1 Playground: Get Best Price (US & Worldwide)
 8 in 1 Playground: Get Best Price (UK)